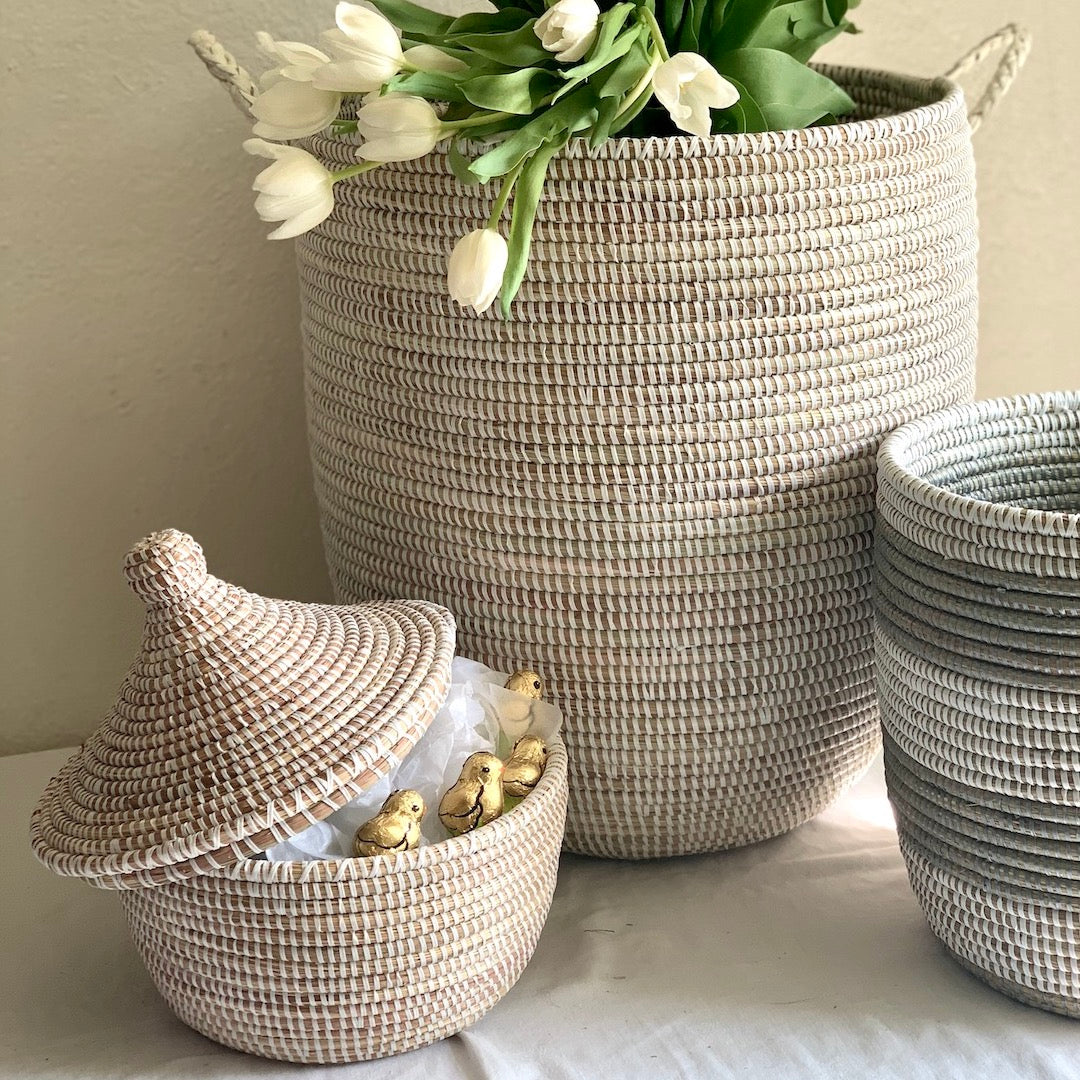 Baskets for Easter and beyond
The Easter weekend is a wonderful celebration of Spring and new life and if, as they say 'Easter is the only time of year it's safe to put all your eggs in one basket' then Artisanne has plenty of beautiful baskets so the more painted or chocolate eggs the better – let's get the Easter egg hunt started!
In a season centred around rejuvenation, our baskets bring fresh purpose to used and sustainable materials with timeless designs that also adapt to your changing needs and interior décor updates.
Our classic round storage basket, for example is skilfully woven reusing plastic strips taken from traditional bazin mats (similar to prayer mats) and sustainably grown ndiorokh grasses. Ideal for toy storage and then, as your children grow, it can become a perfect throw basket fulfilling a new stylish purpose to enhance your home.
Fill Artisanne's baskets to the brim with Easter goodies for now and they'll find a place in your home for life.
Easter isn't just about chocolate eggs, of course, we can't wait for the extra-long Bank Holiday for a chance to recharge and spend time with family and friends. That may be outdoors with a spot of al fresco dining, serving drinks and nibbles on our elegant woven trays, enjoying the longer days and warmer evenings. Or searching for hidden goodies from the mischievous Easter bunny using one of our handwoven baskets which can later adapt to make a perfect planter for spring and summer flowers or even a stylish waste paper basket. Or staying indoors for some family fun passing around our unique woven sharing platter piled high with hot cross buns and lashings of butter!
Our sustainable, versatile baskets not only add original touches to your home, they offer space saving storage solutions and are woven to last using traditional methods, passed down from mother to daughter in Senegal. Our close relationship with our weavers has helped create Artisanne's wonderful array of stylish, colourful baskets with designs that are one of a kind. By paying our weavers fairly and direct, without any middle men, we've also helped build their community in the village of Thiès from 3 to over 110 while providing new resources for education like transport to school for the children and learning materials.